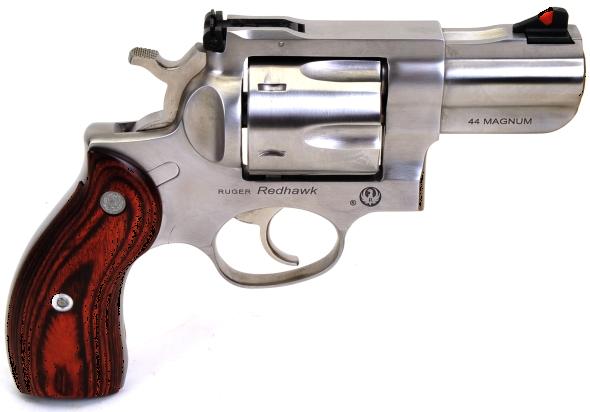 "This here's a .44 Magnum, the most powerful handgun in the world, and it can blow your head clean off. Now, you must ask yourself one question: Do I feel lucky? Well do you, punk?"

- Clint Eastwood

by, Plony Almony, February, 5th, 2017

Growing up in the 1980's I always wanted to own

"the most powerful handgun in the world..."

I fijnally got my chance around 1988 when, after saving my bottle caps, I was alble to afford a Ruger Super Redhawk with a 7.5 inch barrell. I loved the gun, it was built like a tank. I didn't care much for the scope rail which I thought marred the asthetics of a beautiful piece of steel. Anyhow, is a gun a tool or a work of art? The answer for me is: both. Fast forward a few years, and I sold the Super Redhawk...

A couple of years ago I saw this Talo Exclusive Ruger Redhawk .44 Magnum 2.75 Stainless revolver, and I said, "I gotta have one of these." I hadn't even handled the gun before deciding to buy one. Now that I live an area with bears, I figured that this piece would be a good thing to have around.

The gun finally arrived at my local FFL and I experienced the excitement of all new gun purchases. The gun didn't disappoint. It is a solidly buily piece of stainless steel, which is exactly what one would expect from a Ruger.

Just the numbers:

Grips:

Hardwood


Front:

Sight Ramp


Barrel Length:

2.75"


Material:

Stainless Steel

Capacity:

6


Rear:

Sight Adjustable


Twist:

1:20" RH


Finish:

Satin Stainless

Overall:

Length 8.25"


Weight:

44 oz.


Grooves:

6

There are many other more detailed reviews on this gun on-line, about this gun's potential accuracy, portability and shootablity. So I will be brief here.

Range Time:

This thing kicks very nicely, but is very accurate in the hands of a competent shooter who doesn't flinch at the impending recoil. I found it capable of 3 inch groups, handheld at 25 yards, which is excellent. I would recommend using a shooting glove, even an old weight lifting glove will do the trick; just wear something on your shooting hand, when firing this. I went with an older gentleman, a retired court officer in his 80's. The poor guy cut his hand on this gun when shooting it.

Concealed Carry?



Not so fast with this gun due to the weight, unless you are built like the late John Candy. I don't wear belts, so I carry this in Uncle Mike's number 0 paddle holster in front of my gut. Evenually I will splurge and get myself a guide type chest holster.



Summary:

I will leave you with my recommendation:

If you want an awesome hand cannon, good against beasts four and two legged, get yourself one of these. The short barrell and the rounded but, make it portable and do not take anything away from its pontential accuracy.